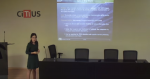 Invited Talk @CiTIUS
Begüm Demir will give a talk on 'Recent Advances in Remote Sensing Image Classification' on the 29th of October at CiTIUS – Centro Singular de Investigación en Tecnoloxías da Información, Universidade de Santiago de Compostela, Spain.
For the details, please visit here.  The talk can be watched during and after the presentation on CiTIUS YouTube channel.