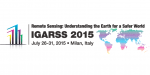 IGARSS 2015 in Italy!
The IEEE International Symposium on Geoscience and Remote Sensing 2015 (IGARSS 2015) will be held in the period  July 26-31, 2015 in Milano (Italy).
This is the most important international symposium in remote sensing. More than 2000 scientists are expected to attend the Milano edition. RSLab has a leading role in the organization of the symposium.
For more information refer to www.igarss2015.org