Best PhD and Master Theses
Elena Donini and Gianmarco Perantoni received the award for the Best Italian PhD and Master Theses on Geoscience and Remote Sensing by the Italian Chapter of the IEEE Geoscience and Remote Sensing Society.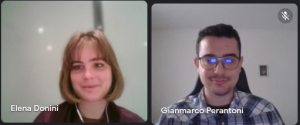 The award was presented to the best three PhD and Master Theses defended in the period June 2020 – May 2021. The title of the PhD Thesis of Elena Donini is "Advanced methods for simulation-based performance assessment and analysis of radar sounder data" (Advisors: F. Bovolo, L. Bruzzone). The title of the Master Thesis of Gianmarco Perantoni is "Advanced strategies for training deep networks with multisource weak labeled data in remote sensing" (Advisor: L. Bruzzone).